The Rotating Magic Bean Fidget Toy is a great way to reduce stress, stimulate fine motor skills and exercise hand-eye coordination. The rotating fidget toy is great for reducing stress and relieving anxiety in adults and is also a great educational tool and stress reliever for children.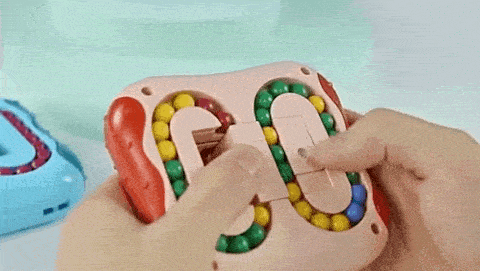 Features:
Keeps Children Entertained:

The fidget toy will keep children entertained for hours while providing them with a stimulating, educational toy.
Educational Tool for Children:

The magic bean fidget toy is an educational tool for children that stimulates fine motor skills, exercises hand-eye coordination, and challenges problem solving.
Stress Reliever Fidget Toy:

The fidget toy is great for both children and adults and works as a stress reliever that helps to give your mind a mental break.
Helps Boost Focus and Productivity:

The fidget toy will help boost focus and productivity by providing your mind with a much-needed mental break and using your hands to relieve stress.
Product Specifications:
Material: ABS

Size: 4.33in x 3.94in
Package Includes:
1 x Magic Bean Rotating Fidget Toy
Shipping Policy
Currently we only ship within the USA .
Orders are generally shipped within 72 hrs. (Monday – Friday) using
 USPS or UPS FedEx and DHL
the quality delivery time is
 7-15 days.Shipping rates are:$4.99
 for all Bags. For USA
Highest rate is applied once to 
the entire

 
order.
While we suits use reasonable efforts to satisfy the shipping and delivery dates provided above, we shall not be 
responsible for

 
any delays in shipments.
Order changes
Once your order has been confirmed, it 
cannot be

 
modified or cancelled. If you'd wish to return a product, you've 
to start out

 
out out out out the returns procedure once you've received the item.
Item not received
If you've successfully placed an order and haven't received it yet while the tracking status shows it's delivered. you'd wish to contact the carrier to hunt out your Bags as once the item is bagged 
we do not

 
have control over it (once it's by the carrier ) , but if 
the issues

 
still persists kindly email us 📧 Mail: 
support@velomarts.com
 we'll try our greatest 
to assist

 
you.
Sometimes tracking information won't be available. 
this might

 
flow from

 
to technical issues 
due to

 
which the tracking information isn't updated on the app. In such cases, if 
you are still

 
unable to locate your item, contact us 📧 Mail: 
support@velomarts.com
 we'll assist you...
Customer Support 24/7
Phone: ‪+1‪(608)-618-5722
Email: support@velomarts.com
Return policy
If 
you'd

 
wish to

 
return an item to
VeloMarts
, please follow the instructions below within 
30 days
 of delivery.
Safely pack 
the items

 
within 
the first

 
packaging that came with the merchandise . All Handbags must be returned in fitness . If the Handbags received is broken , please contact Customer Service.
Contact us for Returning Instructions:
Customer Support 24/7
Phone: ‪+1‪(608)-618-5722
Email: support@velomarts.com
Shipments must be pre-dispatched employing a traceable method like USPS or insured mail .
Please note:
Customers 
need to

 
charge a fee to return the products to us. Shipping and handling charges and other fees aren't reimbursed. We cannot accept cash payments on delivery.
You must provide a legitimate tracking number when filling out the return form for your return to be processed successfully.
Regular products are often returned for a refund, replacement, or a credit hold, while special or custom products can only be returned for change.
Once the Execution Center has received and confirmed your return (usually within 72 hours of receipt), you'll receive an email confirming that your return is complete. If 
there is a

 
refund, it'll be issued within 7 days. Please note that, 
relying on

 
the 
financial institution

 
, it'll take another 3-5 working days for the credit to be credited to your account.
Have any questions?
Customer Support 24/7
Phone: ‪+1‪(608)-618-5722
Email: support@velomarts.com
You may also like
Most of the customers choose our products. You may also like our product.